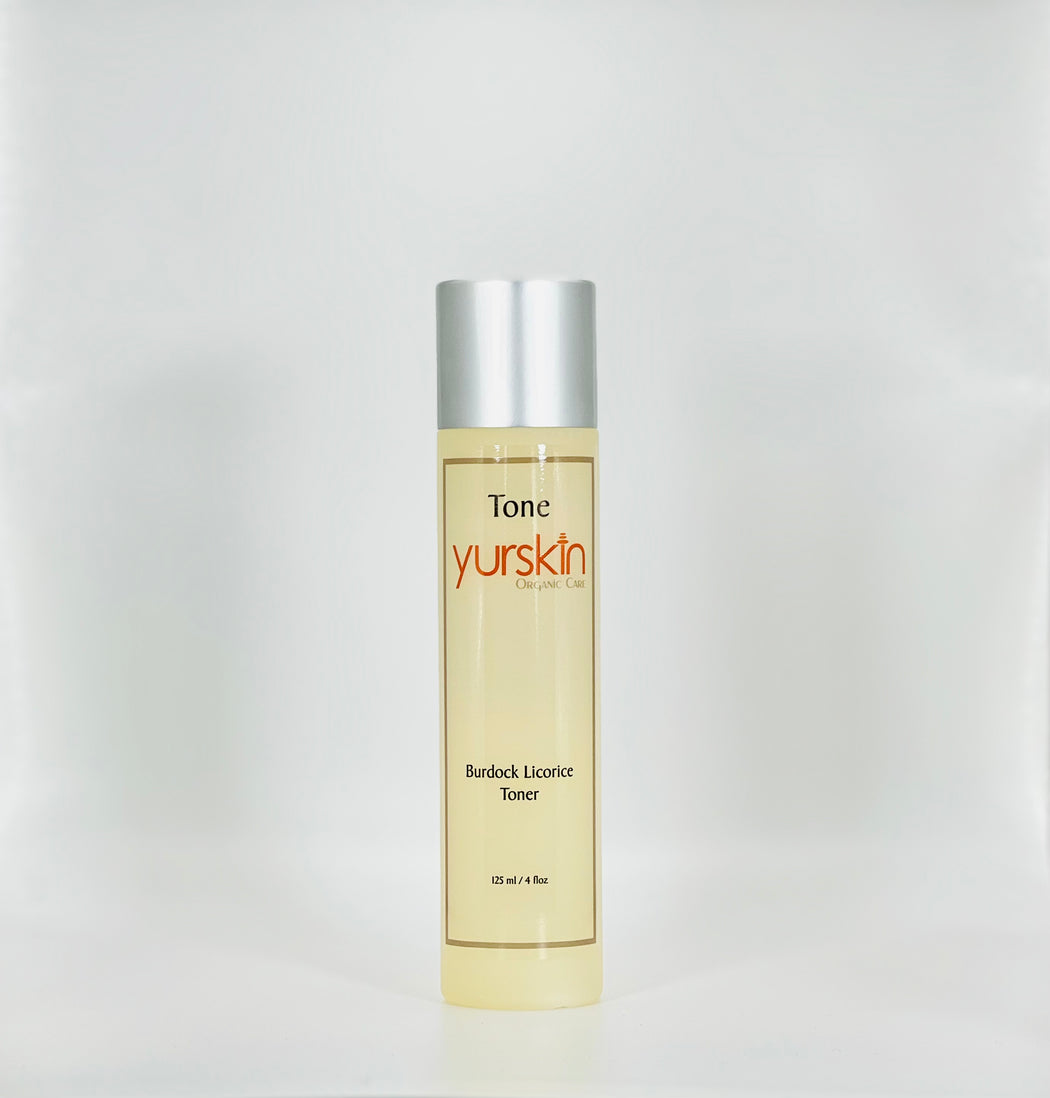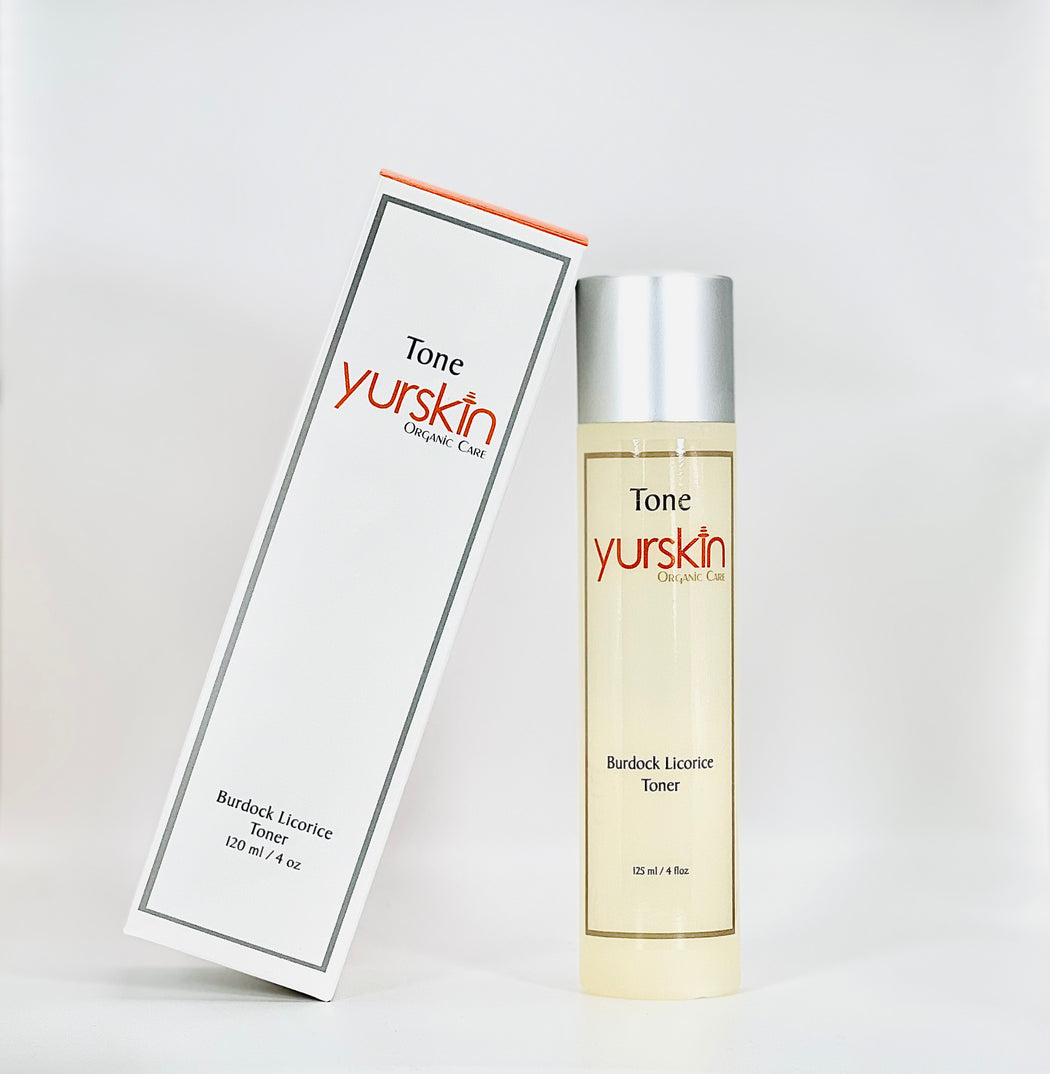 Burdock Licorice Toner
Burdock, Licorice, and Coneflower herbal extracts make this a great and effective anti-microbial, oil-regulating citrus-fresh tonic. Removes excess impurities without stripping or drying the skin. Lemongrass adds a natural, refreshing fragrance to this pH balancing toner.  4oz 
* A little bit goes a long way and can last you a couple of months! 
pH Balance: 4.7- 5.2 
Benefits:
Removes excess oils without drying out the skin
Fights free-radicals, to prevent against DNA damage
Antioxidant, anti-inflammatory, antimicrobial, anti-fungal
Slows down water loss/creates a barrier
Vitamins A, C, E, minerals, zinc, beta-carotene
Prevents breakouts
Repairs (good for psoriasis, eczema, acne, skin ulcers)
Natural acid and exfoliant
Stimulates new cell formation
Prevents premature aging
Instructions:
After cleansing, squeeze a desired amount of toner onto a cotton pad. Gently wipe the skin. Wait 2-3 minutes before applying the next treatment. (Tip: Moisturizer, serum, and eye-cream can be applied after toning. Scrub and mask is advised to be used before toning). 
Ingredient Benefits: 
Burdock Root Extract: Anti-bacterial, antiseptic, anti-inflammatory.
Alteromonas Ferment Extract: Found in deep sea water. Water binding, soothing, repairs skin surface, hydrates and protects barrier of the skin. Free radical scavenger.
Witch Hazel: Tannins are extracted from bark, twigs, and leaves. Removes excess oil from the skin without drying out the skin. Anti-inflammatory. Antioxidant.
Licorice: Great for sensitive skin. Evens out skin tone.
Coneflower Extract: Helps fight and prevent acne, anti-inflammatory, anti-bacterial, and revitalizes the skin.
Salicylic Acid: A colorless crystalline organic acid that helps reduce acne inflammation, relieves painful acne, reduces oily skin, and removes gunk in the pores to help prevent future breakouts.
Pansy Extract: Anti-inflammatory, antioxidant, skin soothing.
Green Tea: Anti-aging, antioxidant, helps improve the appearance of sun-damaged skin.
Bladderwack Extract: Antioxidant, vitamin A, C, E, anti-aging and healing properties. Contains minerals, zinc, carotene, and selenium.
Lemon Grass Oil: Antimicrobial, full of vitamins and nutrients, a natural exfoliant, cleanses pores, and prevents breakouts.
Grapefruit Oil: Antibacterial. Antifungal.
Beta Carotene: Carrot source Vitamin A. Promotes healthy skin. Prevents premature aging, reduces signs of aging, reduces sensitivity, boosts the effectiveness of sunscreen. Protect against UVA-light induced damage.
Honeysuckle: Antimicrobial, anti-inflammatory, and calming properties.
Populus Tremuloides Bark Extract: An extract from the bark of the Aspen tree. Natural preservative. Skin conditioning.
Canadian Willowherb Extract: Soothes acne prone skin, is a free radical scavenger, reduces irritation for sensitive/inflamed skin, calms redness, delivers cleansing properties, helps skin shed dead skin and clears pores.
Citric Acid: A natural acid found in citric fruits. Astringent. Skin lightening. An antioxidant that can help the regeneration of skin tissue and slow down the aging process.
Organic Calendula Officinalis Extract: Comes from the common Marigold. Promotes skin tightness, increases hydration within the skin, anti-aging, antioxidant, antiseptic, prevents acne, skin conditioner.
Gluconolactone: (gentle and suitable for sensitive skin). A naturally occurring Polyhydroxy acid (PHA) that hydrates the skin, is a scavenger against free radicals, protects from environmental toxins, reverses the effects of sun-damage, moisturizing, and reduces the appearance of fine lines.
Chrysanthellum Indicum Extract: Flower based. Anti-inflammatory and anti-bacterial.
Ingredients:
Aqua (Purified Water), Vegetable Glycerin, Sorbitol, Organic Hamamelis Virginiana (Witch Hazel) Extract, Glyceryl Oleate (Plant Source), Caprylyl/Capryl Glucoside, Organic Fucus Vesiculosus (Bladderwrack) Extract, Organic Camellia Sinensis (Green Tea) Extract, Citric Acid, Citrus Medica Limonum (Lemon) Oil, Cymbopogon Schoenanthus (Lemongrass) Oil, Citrus Grandis (Grapefruit) Oil, Organic Calendula Officinalis Extract, Salicylic Acid, Organic Arctium Lappa (Burdock) Root Extract, Glycerin, Leuconostoc/Radish Root Ferment Filtrate, Butylene Glycol (and) Water (and) Glycerin (and) Alteromonas Ferment Extract (and) Chrysanthellum Indicum Extract, Lonicera Japonica (Honeysuckle) Flower Extract, Lonicera Caprifolium (Honeysuckle) Flower Extract, Populus Tremuloides Bark Extract, Gluconolactone, Glycyrrhiza Glabra Leaf (Licorice) Extract, Epilobium Angustifolia (Canadian Willowherb) Extract, Echinacea Purpurea (Coneflower) Extract, Viola Tricolor (Pansy) Extract, Beta Carotene.
Disclaimer: Yurskin product ingredients are updated periodically. Please read the ingredients list on the packaging of your product to be sure that the ingredients are suitable for your personal use. Keep in a cool, dry place. For cosmetic use only. If irritation occurs, discontinue use. Avoid contact with eyes. If needed, do a patch test on the inside of the wrist to ensure skin compatibility.