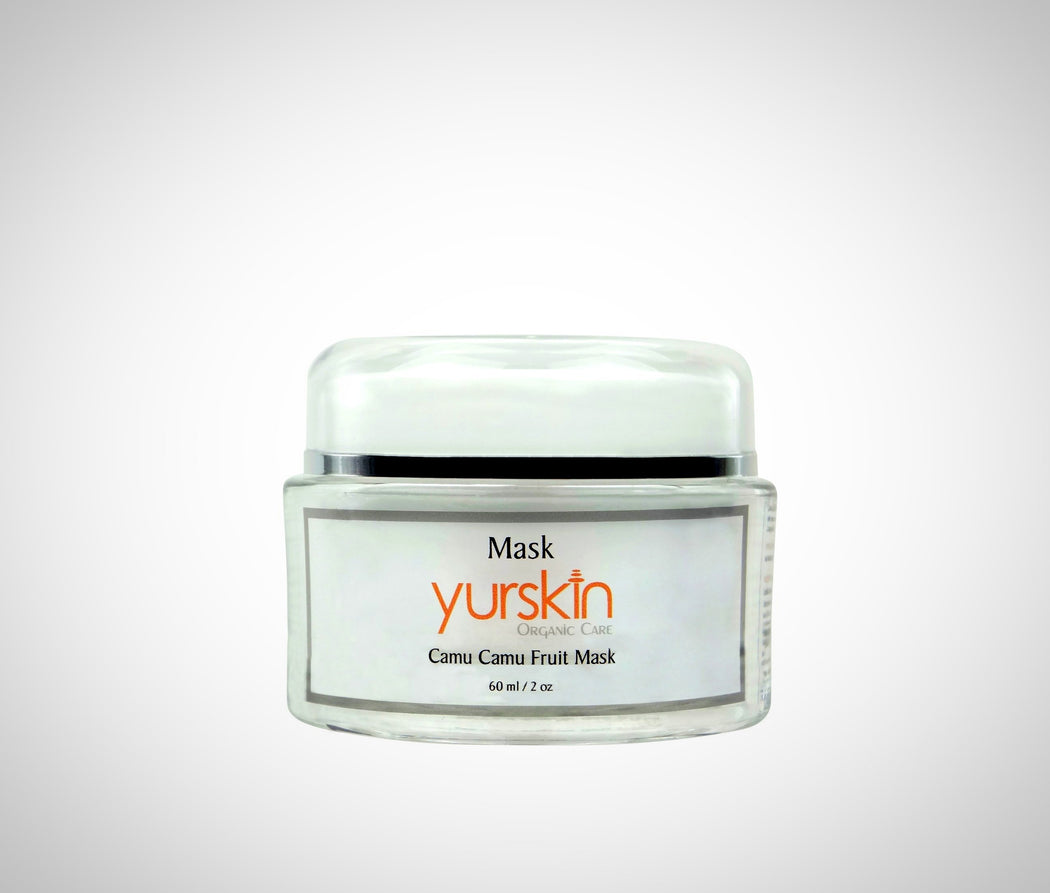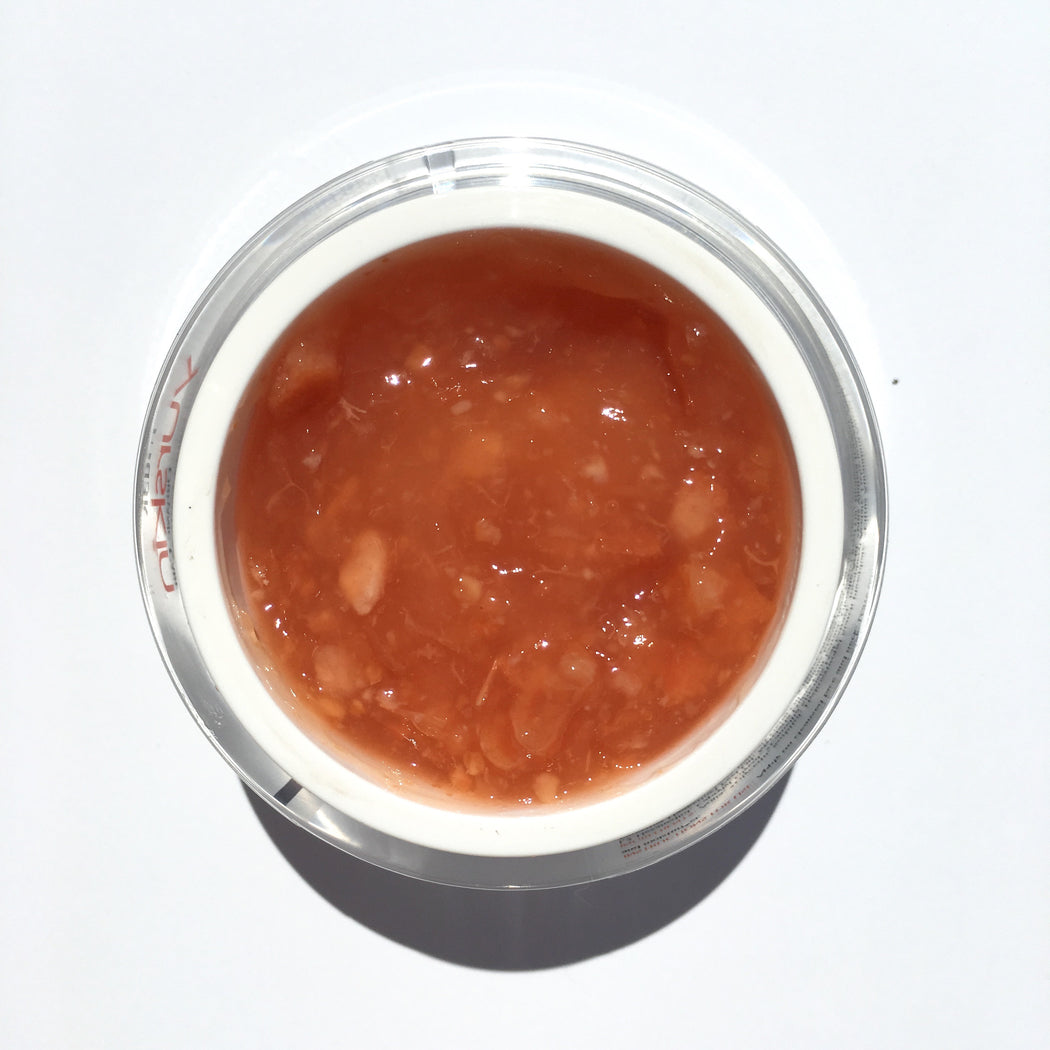 Camu Camu Fruit Mask (Powerful Vitamin C)
Our vitamin and amino acid enriched mask contains Camu Camu, which has the highest recorded amount of natural vitamin C on the planet. Vitamin C helps collagen production and is packed with potent antioxidants that can neutralize free radicals in the skin. This deep nourishing mask helps enhance skin texture, as well as encouraging elasticity and resilience.  2oz
**Due to the high concentration of Vitamin C, the Camu Camu Mask may not be suited for children and those with sensitive skin. Avoid mixing Niacinamide, microneedling, and acids (glycolic, lactic, retinol) with this product. Mild redness may occur and is natural due to the active ingredients and nature of the Camu Camu Mask. Rejuvenated, glowing skin will be revealed. 
pH 4.7 - 5.2
Benefits:
Packed with vitamins, minerals, amino acids
Removes outer layer of dead cells
Anti-aging
Anti-inflammatory, anti-fungal, anti-bacterial
Conditions the skin
Antioxidant
Repairs damaged cells and rejuvenates the skin
Promotes collagen production by shedding old cells
Great for wrinkles and hyperpigmentation
Instructions:
On cleansed skin, apply an even layer of the mask over the face and neck. Leave product on for 10-15 minutes. Rinse well with warm water. Follow with toner and moisturizer. 
Ingredient Benefits: 
Camu Camu Fruit Extract: Harvested in the Amazonian rainforest. Has the highest amount of natural vitamin C on planet earth, containing more than 30 times more vitamin C than an orange!
Rosehip Fruit Powder Extract: A natural, gentle exfoliant that sheds the epidermis of the skin, moisturizes, and promotes skin regeneration revealing a healthy glow.
Lanacityn: Improves your overall skin complexion, protects the skin and its DNA from air pollutants, prevents water loss, and reinforces skin resistance towards environmental insults.
Grapeseed Oil: A Non-Comedogenic oil high in beta-carotene, flavonoids, Vitamin E, C, D, and Linoleic, helping to target concerns of wrinkles, skin balance, and restoration of collagen. Anti-bacterial. Anti-fungal.
Gotu Kola Extract: A perennial plant native to Asia that helps reduce inflammation and retard the aging process by stimulating the cells to make collagen.
Aloe Vera Leaf Extract: Soothing, anti-inflammatory, healing, scar reducing, wrinkle reducer.
Vitamin C (L Ascorbic Acid): Antioxidant-rich, promotes collagen synthesis, brightens the skin tone and reduces the appearance of signs of aging.
Tocopheryl Acetate: A form of Vitamin E known for its antioxidant properties. Prevents damage to skin caused by free radicals from UV exposure. Is anti-aging, anti-inflammatory, and enhances SPF properties. Natural skin conditioner.
Acai Fruit Oil: Antioxidant, anti-aging, nourishing, and controls acne bacteria.
Wild Yam: Aids against sun-spots, an inhibitor of hyperpigmentation.
Jojoba Oil: Anti-inflammatory, reduces redness, good for eczema, rosacea, contains Vitamins B, E, helps repair skin. Good for acne.
Sunflower Seed Oil: Anti-acne, anti-aging, anti-inflammatory, antioxidant, Vitamins A, C, E, fatty acids.
Glycolic Acid: The Holy grail for exfoliation. Derived from sugar cane. Removes outer layer of dead skin cells, helps boost collagen production and is anti-aging.
Wheat Germ Oil: Contains Vitamins A, B, D, antioxidant, fatty acids, rich in vitamin E, fights free radicals. Nice fragrance.
Bioflavonoids: Phytonutrients are found in plants. Anti-inflammatory, astringent, antimicrobial, free radical scavenger, UV absorption, anti-lipid peroxidation, cell membrane protection, antioxidant.
Raspberry Fruit Oil: High in Vitamin E (natural antioxidant). Boosts your skins natural glow. Combats oxidative damage, anti-inflammatory, anti-aging, and helps repair the skin.
Threonine: An amino acid that assists in creating Glycine and Serine, two other amino acids which help the production of collagen, elastin, and muscle tissue.
Alteromonas Ferment Extract: Found in deep sea water. Water binding, soothing, repairs skin surface, hydrates and protects barrier of the skin. Free radical scavenger.
Arginine: An amino acid that helps reduce inflammation, aids in tissue formation, anti-oxidant agent helping to repair skin damage caused by environmental factors and aging, helps other ingredients penetrate into the skin by stimulating blood flow, and collagen synthesis. Helps to restore a youthful appearance.
Chrysanthellum Indicum Extract: Flower based. Anti-inflammatory and anti-bacterial.
Bitter Orange Powder Extract: Great cleansing capabilities. Cleanses dirt, oil, and impurities from the skin, calming and balancing — yet it doesn't strip the skin. Anti-fungal. High in vitamin C, flavonoids, and Vitamin A.
Ascorbic Acid Polypeptide: Converts to Vitamin C when applied to the skin. Penetrates the outer layer of the skin. Antioxidant, skin soothing, anti-aging, helps collagen production, rebuilds skin cells by shedding old cells, free radical fighter, removes the DNA that free radicals form. Great for wrinkles, hyperpigmentation, and stimulation.
Green Tea:

 Anti-aging, antioxidant, helps improve the appearance of sun-damaged skin.
Ingredients:
Aqua (Purified Water), Vegetable Glycerin, Sorbitol, Hydroxypropyl Starch Phosphate, Xanthan Gum, Organic Camellia Sinensis (Green Tea) Leaf Extract, Tocopheryl Acetate, L Ascorbic Acid, Citrus Reticulata (Tangerine) Essential Oil, Glyceryl Undecylenate (and) Glyceryl Caprylate, Myrciaria Dubia (Camu Camu) Fruit Powder Extract, Glycolic Acid, Vitis Vinifera (Grape Seed) Seed Oil, Rosa Canina (Rosehip) Fruit Powder Extract, Triticum Vulgare (Wheat Germ) Oil, Organic Rubus Idaeus (Raspberry) Fruit Oil, Boflavonoids, Ascorbic Acid Polypeptide, Ascorbyl Palmitate, Organic Citrus Aurantium Amara (Bitter Orange) Powder Extract, Organic Orange (Citrus Aurantium) Peel, Organic Citrus Grandis (Grapefruit) Peel Oil, Vitis Vinifera (Grape) Seed Oil, Threonine, L-Arginine, Serine, Lysine, Glycine, Organic Centella Asiatica (Gotu Kola) Extract, Alteromonas Ferment Extract (and) Chrysanthellum Indicum Extract, Organic Aloe Barbadensis Leaf Extract, Euterpe Oleracea (Acai) Fruit Oil, Dioscorea Villosa (Wild Yam) Root Extract, Organic Buxus Chinensis (Jojoba) Oil, Organic Helianthus Annuus (Sunflower) Seed Oil.
Disclaimer: Yurskin product ingredients are updated periodically. Please read the ingredients list on the packaging of your product to be sure that the ingredients are suitable for your personal use. Keep in a cool, dry place. For cosmetic use only. If irritation occurs, discontinue use. Avoid contact with eyes. If needed, do a patch test on the inside of the wrist to ensure skin compatibility.